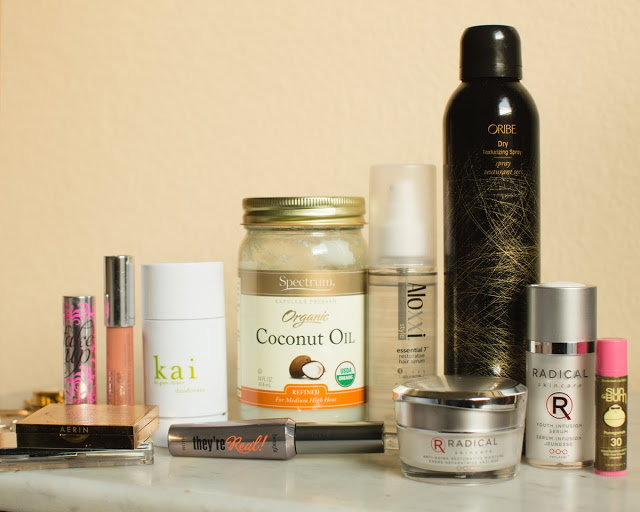 Before I started blogging my beauty routine consisted of Cetaphil and Carmex (still my favorite drugstore miracle brands) but one of the biggest perks of writing Clotheshorse NYC is having the opportunity to try new products. Here are a few things I fell in love with this year.
xx,
Amelia
Coconut Oil | Possibly my favorite discovery. After a day of auditions aka foundation and eye make-up slathering days I use this and a hot wash cloth to take everything off. Donezo. It's so moisturizing I rarely need to put anything else on. It's also antibacterial and anti-fungal. You can find it at Whole Foods or Trader Joe's.
Kai Deodorant | I buy a lot of products based on the way that they smell. Kai is one of my favorite scents – it's like Malibu in a bottle – so when I found out they made a deodorant I had to try it.
Radical Skincare Youth Infusion Serum and Restorative Anti-Aging Moisturizer | I was invited to a launch party for this line at Melanie Griffiths house. The house was amazing and I really like the products. I've been using them on a daily basis ever since but they're sort of pricey so I'm trying to ration them.
Benefit "They're Real" Mascara | The world's best mascara, in my humble opinion.
Benefit "Fake Up" Concealer | I don't use a ton of concealer but I like to dot this under my eyes before applying foundation. It has a moisture rim wrapped around the make-up so it glides on smooth and creamy.
Clinique "Jenna's Essentials" Shadow Pallette | The only way I've ever been able to do a subtle smokey eye is with this palette. There's an example card stuck to the inside mirror and the applicators are numbered. I love it!
Clinique Chubby Stick in Roomiest Rose | I just like saying Chubby Stick. It's like putting on make-up with a big crayon which I think is fun.
Oribe Dry Texturizing Spray | The smell is so good I can convince myself that it's doubling as a perfume. Plus the packaging makes me happy.
Aloxxi Essential 7 Restorative Hair Serum | I run this through the tips of my hair before blow drying to prevent split ends.
Aerin Multi Color for lips and Cheeks | I love the subtle color this gives me. It's like a bronzer crossed with a blush.
Sun Bum SPF 30 Lip Balm | I like this because it's paraben free and somehow tastes sweet without smelling like a tween's bedroom.