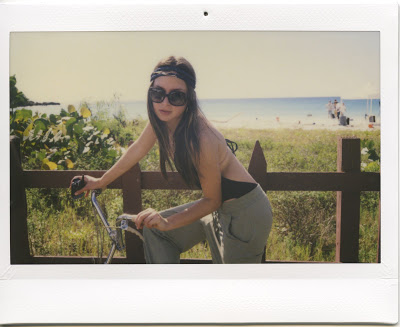 I recently had the privilege of traveling to the island of Vieques with American Eagle to work on their summer 2010 campaign. Vieques is a beautiful island off the coast of Puerto Rico. You have to take a little puddle jumper plane to get there (exciting/terrifying) or alternately a ferry. Take the puddle jumper.
We were in Vieques for nine glorious days. Although we were working, I was able to get a feel for this island's super laid back VERY un-pretentious vibe and I can't wait to return. The beaches are breathtaking and while I have yet to visit Hawaii some of my co-workers said that Vieques beaches are quite comparable.
Vieques is also a great place to experience the bio-lumenescient bay. A rare bay that contains a certain single celled organism that is fluorescent at night. When you swim in the bay it looks like your body is covered in moving glitter.
Another cool thing about Vieques… The American Army was stationed on the island for several years. When they left the island they released all of their horses into the wild so Vieques now has a large free-roaming horse population. This adds to its Gypset charm.
You can also surf this island and one of my co-workers was a former pro-surfer who lives in San Juan. I did not get my "carve on" this trip but I am planning to log some hours when I travel to Bathsheba, Barbados for my honeymoon in March.
In this story; swimsuit American Apparel, sweats Adam, headband Forever21.